This is part of my list of the
50 Greatest NBA Players Ever
, where I will go through each player in a random order. #16 on the list is Hakeem Olajuwon.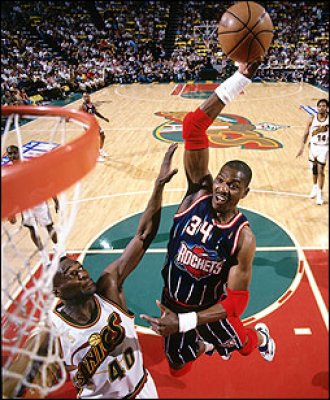 Now time for Hakeem "The Dream" Olajuwon, who just so happens to be my sister Amanda' favorite player of all-time (which is why I'm writing about him early). So congrats to Hakeem for that.
What make Hakeem so great was that for a big man, he did everything well. He scored, he rebounded, be was a solid passer, and he was a beast defensively. This is all evident looking at
the numbers
.
From 1993-1996 Hakeem put one of the best stretches ever together. During that 4-year stretch he averaged 27.0 PPG, 12.0 RPG, 3.6 APG, 3.6 BPG, and 1.7 SPG. No surprise that he got the MVP in 1994, and the Finals MVP in 1994 and 1995. In 1994 he was the NBA MVP, Finals MVP, and Defensive Player of the Year, which I don't believe has ever been done before.
For all of his offensive prowess, including the classic "Dream Shake", defense is where he made his living. He averaged 3.5 BPG and 2.0 SPG for his career. Most staggering, at least to me, is that he's
7th all-time
in the NBA in steals. Everyone above him is a guard. He's also first all-time in blocks. He's the only player in NBA history with 2000 blocks and 2000 steals.
And he's got the rings to back this all up. Look at his averages in 1994 and 1995 playoffs, when the Rockets won the NBA Title:
1994 - 28.9 PPG, 11.0 RPG, 4.3 APG, 4.0 BPG, 1.8 SPG
1995 - 33.0 PPG, 10.3 RPG, 4.5 APG, 2.8 BP, 1.2 SPG
Put it all together, and you have the complete package for a center - Efficient offensively, one of the best defensively ever, and excellent in the playoffs. In an era with Patrick Ewing, David Robinson, Alonzo Mourning, Dikembe Mutombo and others, Hakeem owned the early and mid 1990s as far as centers were concerned.
Which is why he comes in as the 16th best player in NBA history.