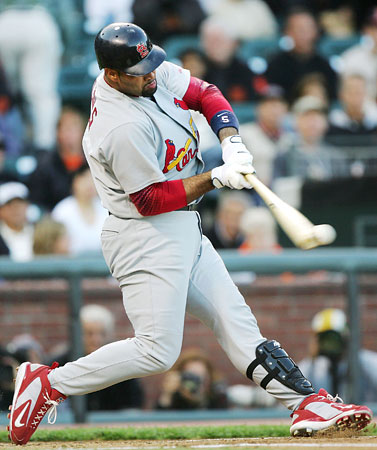 It's that time of year again! Here's my top 10 for 1B for Fantasy Baseball.
1.
Albert Pujols
- The power numbers were way down, but he still edges out Prince for the top spot. But it is a bit worrisome that he hit 17 less HR last year than in 2006, and had only 103 RBI compared to 137 the year before. Unlike past year, he's not a guy to consider with the first overall pick, but he's still the top 1B.
2.
Prince Fielder
- Prince obviously had a huge year in 2007, hitting 50 HR and topping 119 RBI. The average was at .288, which is obviously still good, but also about 40-50 points behind Albert Pujols, which is why Prince comes in at 2nd.
3.
Ryan Howard
- As was to be expected, Howard's numbers went down some compared to 2006, but he was still very productive. Fantasy owners will take 47 HR and a solid 136 RBI. One concern is that his average fell from .313 to .268, a rather precipitous drop. If he can get it back to the .300 range, he'll once again be a contender for top fantasy 1B.
4.
David Ortiz
- Curiously, Ortiz hit 19 fewer HR last year than in 2006, but he had 23 more doubles. Not sure why that was the case. He's still an RBI machine, totaling 117 last year, which was actually his lowest in 4 years. He should continue to get plenty of opportunities to drive runners in batting right in the middle of a very potent lineup.
5.
Mark Teixeira
- Teixeira quietly tore the cover off the ball in Atlanta, slugging .615 after the midseason trade. In only 54 games with the Braves, he had 17 HR and 56 RBI. He probably can't keep up that pace, but the Atlanta offense should be solid once again, and he'll be a big part of that.
6.
Lance Berkman
- As is becoming a theme with the 1B on this list, Berkman's power numbers were way down last year, as his HR total dropped by 11 and his SLG fell over 100 points. Even in a down year, he still hit 34 HR and had over 100 RBI. Again, if he can regain 2006 form, he's probably a top 3 1B.
7.
Justin Morneau
- Morneau didn't have quite the year he did during his MVP campaign, but he still hit 31 HR and drove in a solid 111 runs. The average did drop 50 points, which is a concern. I suspect we will see his numbers settle in somewhere in between the 2006 and 2007 seasons, which makes for a very good run-producing machine.
8.
Derrek Lee
- He probably won't approach the 46 HR he had in 2005 again, but he is a doubles machine, hitting 43 last year in 150 games. He's also a very solid hitter for average, as his batting average was a solid .317.
9.
Travis Hafner
- He was a bit of a disappointment last year with his numbers completely down across the board. His SLG dropped a whopping 200 points and his average was down 40 points. He hit 16 less HR, had 17 fewer RBI, and scored 20 less runs. However, if he can return anywhere near to his 2004-2006 form, he's a top 5 1B. Worth the risk.
10.
Adrian Gonzalez
- 30 HR, 100 RBI, 101 runs, and 46 doubles... those are numbers you can live with. Gonzalez is a very productive player who you know what you're going to get. He's never going to be an MVP type player, but he's just an above average 1B that helps you in a few different areas.
What are your thoughts? Which of these rankings would you change?