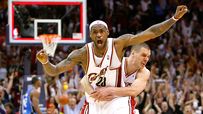 We are in the midst of two great conference finals matchups. In the Eastern Conference, the Cleveland Cavaliers and Orlando Magic are knotted at 1 game apiece. In the Western Conference, the Los Angeles Lakers lead the Denver Nuggets 2 games to 1.
First, a look at the East, which has been epic through 2 games. After Rashard Lewis won game 1 with a late 3-pointer, LeBron James
answered with a buzzer beating 3
of his own, evening the series. Thoughts from this series:
- LeBron James, of course, has been ridiculously good. He is the best basketball player on the planet, and he's showing it through the first 2 games. After being almost unstoppable in game 1 (20/30 shooting? Are you serious?), he followed that up with 35 points and the aforementioned game-winner in game 2. With the defense focusing on him, he is shooting a high percentage, playing great defense, and getting good looks for his teammates.
- However, he can't do it on his own. In Game 21, Mo Williams had 19 points, but it took him 21 shots to do it. Delonte West only had 12 points in 46 minutes. Zydrunas Ilgauskas only had 12 points on 5/13 shooting. LeBron will get these guys lots of great looks, so they are going to need to hit shots.
- Dwight Howard needs to dominate for the Magic. The Cavaliers have nobody that can guard him (Zydrunas Ilgauskas is not even close to quick enough), so there is no reason for Howard to only have 10 points on 3/8 shooting. His average needs to be up in the 20s for the Magic to win this series.
- I love watching Rashard Lewis and Hedo Turkoglu play when they are firing at all cylinders. Great shooters, good handles, good passers... a fantastic wing combination.
- Courtney Lee is showing me some good offensive game a lot more quickly in his career than I thought he would.
- Still like the Cavs in this series... LeBron is simply too good. I'll go with Cavs in 6.
Then there is the West, where the Lakers victory on Saturday gave them a 2-1 series lead... all 3 games have been closely contested and have come down to the wire, where any of the games conceivably could have been won by either team. Thoughts:
- Kobe Bryant was a man in Game 3, carrying the Lakers down the stretch with 41 points to go along with 6 rebounds and 5 assists. Clutch 3 to put the Lakers up late and then lots of late free throws.
- Kenyon Martin with one of the worst inbounds passes I have seen to all but seal the fate of the Nuggets in game 3. Give credit to Lamar Odom for great defense on the ball out of bounds, but that was still an atrocious pass.
- Don't see how the Lakers can win an NBA title if they get as little contributions from their PGs as they did in game 23. Derek Fisher, Jordan Farmar, and Shannon Brown basically added nothing to the table.
- Carmelo Anthony, where did you go in the 2nd half? With his disappearance and the struggle of JR Smith to score (he played well in other areas but didn't add much scoring the ball - 4/15 shooting), the Nuggets just didn't have enough offense.
- Well done Bird Man... 15 points, 7 rebounds, 3 blocks in 24 minutes. The man is an athletic specimen.
Hope you guys are enjoying these 2 series' as much as I am... it has been excellent so far, hope we can continue to have great basketball games!