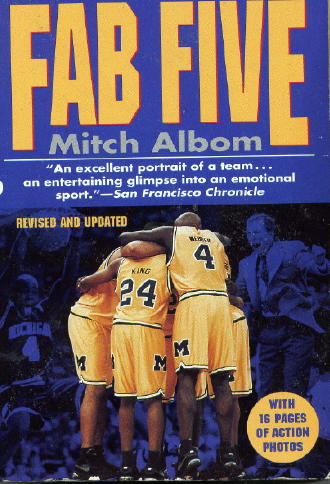 Ok, so maybe I have a little too much free time here in the summer. And I have a boring job where I can sometimes read books at. Regardless, I have another good sports book to recommend (if you haven't read it already.
That book is:
Fab Five: Basketball, Trash Talk, The American Dream
by Mitch Albom.
Last week I recommended
The Last Amateurs
by John Feinstein, and other than the fact that they both cover college basketball, the books couldn't be more different. The other book follows the Patriot League and talks about the players who are mostly focused on academics, while this focuses on the Michigan players that were a lot more focused on basketball than athletics, and where there is some corruption, and was
found out later
.
Now, I'm sure you know Albom from his other books or from his shoddy work on The Sports Reporters, but really, this is an excellently written book that covers 1992 and 1993 Michigan basketball... obviously the two years the Fab Five were together for the Wolverines.
The book starts off with good detailing on the recruiting process and how and why they all wound up at Michigan. It talks about how the Fab Five really changed college basketball in a lot of ways, not all of them good. Albom also does a good job showing how there was sometimes a double standard for these guys (both good and bad) because they were so talented, so outspoken, and so brash.
It was interesting to see how they went from being 'media darlings' in one year to being constantly criticized the next. Or how they all meshed together so well, even with some resentment from their upperclassmen.
Another interesting thing was to see how the book portrayed Steve Fisher. Sure, Albom did show him as a family man, but there was also the writings about how he 'bent the rules' at times to recruit these guys, how he applied a double standard when it came to disciplining them compared to the rest of the team, etc.
As someone who was really too young to remember much about the Fab Five, it was certainly interesting to read. I'm not sure if it would be more or less interesting if you remembered them well (or in some cases, as I know some readers here are, were/are fans of the Wolverines). All I know is that if you haven't read the book yet, you should. It's really quite excellent, as its rating on Amazon shows (though my recommendation should be enough!).