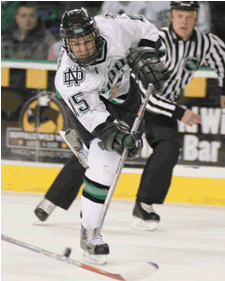 As some of you may or may not know, I don't really care too much for hockey... that is, unless we're talking about the
Frozen Four
and the
Fighting Sioux
are playing.
UND will take on Boston College on Thursday, and Wisconsin takes on Maine.
Now, I really don't know much about hockey, but I know this, UND is really, really talented. They struggled early in the year as their young guys were just starting, but now they're basically veterans now. As a group, their talent is "
second-to-none
."
In the net, they have Jordan Parise, who is 6-2 in his career in the NCAA Tournament. The Sioux average 4 goals a game, which is 2nd in the nation. BC gives up 2.21 goals per game, which is tied for 5th in the NCAA. Something, as they say, has got to give.
The one thing that sucks about this is that the games start at 2:00 Central with UND/BC. This seems dumb to me, because that seems to take away a lot of viewers. But I guess that's why I'm not in charge.
Anyway, my predction: UND will be playing Wisconsin in the Title Match on Saturday night.
Other Links
Coaches' Takes on the Frozen Four Games
UND/Boston College Preview
Maine/Wisconsin Preview